My third eBook, A Woman's Guide to Detecting Narcissistic Men: Thirty Tips for Recognizing a Potential Predator, is now available!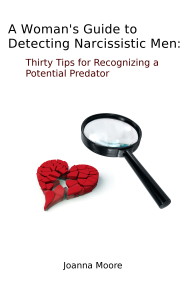 "At the beginning, they can lay on the charm a little too strong. If you are a woman who wants some romance, you might be so blinded, you don't notice. And frankly, if you are a little desperate, they will play you like a fiddle. Healthy people respect boundaries—their own and those of others. They don't flatter you excessively, they don't love you right away, they don't spend huge amounts of money. Healthy people slowly get to know you. Narcissists, though, they come on strong. They do what we call 'love-bombing.' They will call you frequently, see you often, tell you you are the greatest person they've ever met, and more. "
Click HERE to purchase it on Amazon!