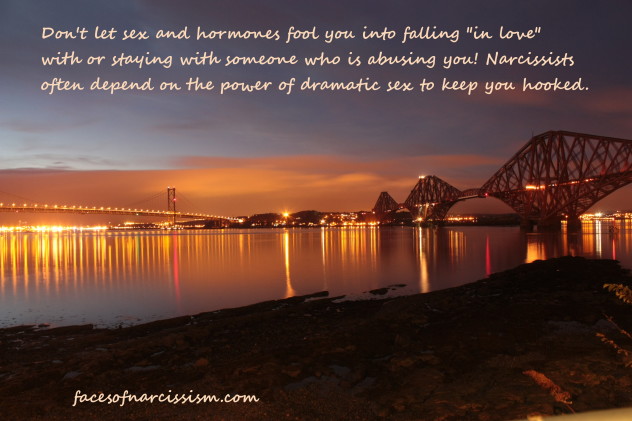 Don't let sex and hormones fool you into falling "in love" with or staying with someone who is abusing you! Narcissists often depend on the power of dramatic sex to keep you hooked.
In my last blog, I left off at the end of chapter 8, when Christian has just taken Ana's virginity with very little thought about her comfort or preferences. And when she wakes up, she realizes she's being very foolish about a man who wants only BDSM sex and control while she wants a romantic relationship. Like many women in an abusive relationship, she is torn between the charm and excitement–and sex–and what her brain is telling her. Sex releases oxytocin that fool a person's brain into falling in love, so it is a good weapon for an abuser. (This article is a good overview.)
All quotes in this blog come from James, E L (2011-05-25). Fifty Shades of Grey (Fifty Shades, Book 1). Knopf Doubleday Publishing Group. Kindle Edition.
Those of us who have dealt with an abusive, (or just plain bad,) relationship know that there is often a push and pull. We know we should end it, but we get drawn back in…all the while mentally smacking our foreheads at making what we know are bad decisions. Ana does this too: "My subconscious has woken. She's staring at me with pursed lips, tapping her foot. So you've just slept with him, given him your virginity, a man who doesn't love you. In fact, he has very odd ideas about you, wants to make you some sort of kinky sex slave. ARE YOU CRAZY? She's shouting at me. I wince as I look in the mirror. I am going to have to process all this. Honestly, fancy falling for a man who's beyond beautiful, richer than Croesus, and has a Red Room of Pain waiting for me. I shudder. I'm bewildered and confused." (p. 126). Gee, do you *really* want to be with a man who makes you wince and shudder? Ana knows she should run away, but she remembers how fun sex is: "I close my eyes as my body hums at the recollection, and my muscles contract deliciously deep in my belly. My subconscious scowls at me … Fucking— not lovemaking, she screams at me like a harpy. I ignore her, but deep down I know she has a point (p. 127).
Whenever Ana reminds herself that she needs to get away from Christian, she comes back to sexual attraction and thinks about being in love with him–not for shared values or hobbies, or a mental or spiritual connection, but for the sex. That's all they've got–and even that is binding and controlling. She even says "I am in a sexual thrall to this man, and he doesn't let me move. (p. 135).
The next chapter is filled with angry, controlling and inconsistent behavior from Christian. He goes back and forth between playful and sexual and just mad and pushy: "'The photographer?' His jaw clenches and his eyes burn. I blink at him. 'I don't like to share, Miss Steele. Remember that.' His quiet, chilling tone is a warning, and with one long, cold look at me, he heads back to the bedroom. Holy crap. I just wanted to call Kate, I want to call after him, but his sudden aloofness has left me paralyzed. What happened to the generous, relaxed, smiling man who was making love to me not half an hour ago?" (p. 148). Like all predators, Christian is only happy when he is getting his own way, but if the Ana does anything that signals a lapse of control, he gets angry. She can't even talk to him or anyone about him because "…I can't talk to him if he's open one minute and standoffish the next (p. 149). And later she asks "How does he switch so quickly from one mood to the next? He's so mercurial … It's hard to keep up (p. 157). A narcissist's or a sociopath's Jekyll and Hyde behavior really throws their victims off-balance!
In chapter 11, Ana is still conflicted. Seriously, if your relationship makes you this miserable, it's not worth it! And she knows it: "And these silly rules … No, no, I can't do this. I put my head in my hands. This is no way to have a relationship" (p. 176). Then she argues more with her good and bad angels in her mind: "I stare at myself in the bathroom mirror. You can't seriously be considering this … My subconscious sounds sane and rational, not her usual snarky self. My inner goddess is jumping up and down, clapping her hands like a five-year-old. Please, let's do this … otherwise we'll end up alone with lots of cats and your classic novels to keep you company."(p. 176) She just can't decide, but her attraction to Christian is nothing healthy. It's completely sexual: "I want to do that again and again. Maybe if I just sign up for the sex … would he go with that? I suspect not" (p.176).
So there we go. Three more chapters into the book. Christian is still crazy and Ana is still mesmerized by his charm and now by orgasms while her brain says "NO!"
Next blog coming soon….