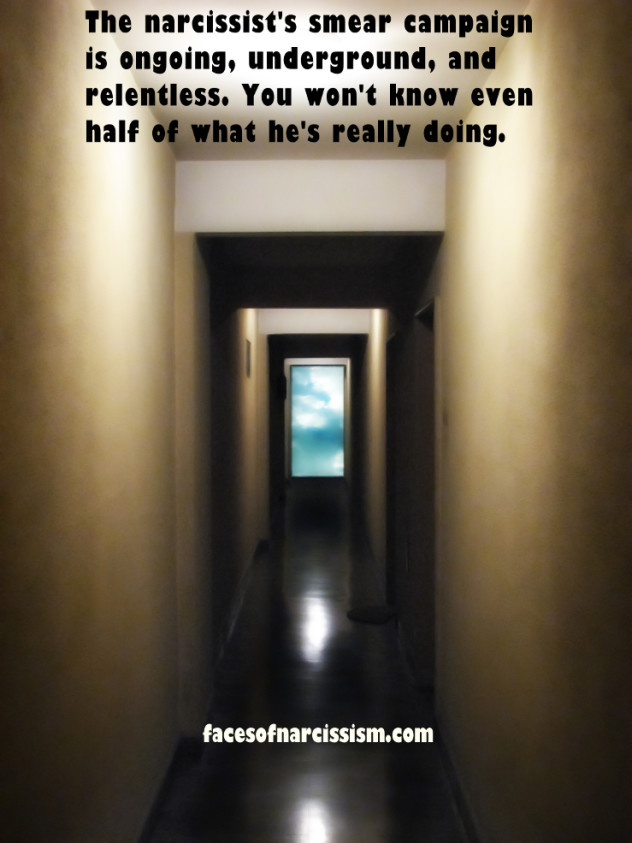 The narcissist's smear campaign is ongoing, underground, and
relentless. You won't know even half of what he's really doing.
A few years ago, after I first split from my ex narcopath, I posted in a large forum where I was an active member and asked if anyone wanted to form a small, private support group for people who'd been abused by narcissists and sociopaths. I got some positive replies, so I went ahead and started the group, then e-mailed everyone who was interested. Half of them ignored me, and never replied to me again in the forum. I thought it was weird and moved on.
Over time, people started sending me messages saying that the narcopath had contacted them and told them to ignore anything I posted. I had the narcopath blocked, of course, but clearly, he was seeing everything I did online. Either he has fake profiles or a very dedicated gang of flying monkeys! At some points, he was stalking me in real time. One day a friend tagged me in a post and he was messaging them within a minute. That happened all the time and I started getting a lot of warnings about it.
I thought this was creepy because, as bad as the narcopath was, I never contacted his friends. I figured they were either fooled or they were just as bad as he was. Either way, I was never going to convince them that he was abusive, and it wasn't my business to bother his friends, anyway. He did not take the same approach to my friends. He contacted them over and over and over. Sometimes he wouldn't mention me, but he would start charming and flattering them. If it wasn't my friend and was just someone I was responding to online, he smeared me to them so they wouldn't want to become my friend in the future.
It got to the point where he was sending a friend request to everyone who joined the forum like there was some kind of race to "win" them before I might talk to them. I kept my friend list small because I didn't want to add people just so I could fool and manipulate them. Still, I kept getting warnings from people saying that he'd contacted them within moments of responding to me, tagging me or quoting me on a thread. I wondered how many more people were just buying his games and not telling me?
Finally, one day I posted in the forum and asked, "just out of curiosity, has anyone received a friend request or a private message about me immediately after replying to me on a thread?" I got over *thirty* messages from people who had. Nearly all of them confirmed that my ex narcopath had sent them private messages telling them I was nuts and they should ignore me. I never mentioned his name publicly, but he was smearing me privately whenever I posted in forums seeking support for recovering from abuse.
He followed me into other support groups, and if it was a women's group, he sent his female flying monkeys.
It still baffles me that anyone would believe a random message from a guy smearing someone. I never sent unsolicited messages to people to tell them to avoid my sociopathic ex! If I got a message like that, my first thought would be "why is this crazy guy sending me this message?!" Unfortunately, his smear campaign was broad and done in private messages for years. By doing it privately, he got others enraged on his behalf and rounded up a small group of nasty women who swooped in to trash and attack me regularly. BUT, because he was pulling their strings in the background, he claims he's taken the high road by never saying anything publicly. That's a sociopath for ya! Rationalizing their insanity any way they can! I'm sure I only know the tip of what was really done.
I finally had to close all doors to that forum where I'd been an active poster for years, but the good news is, getting rid of that toxic environment opened doors for me to find healthier interaction–both online and off!