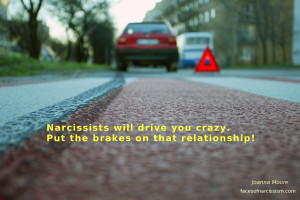 Earlier I saw a comment that I've seen many times in support groups and it inspired me to make a post: I often see advice saying that if a person tells you that they've had multiple crazy exes, you should avoid them because they are the problem.
There is definitely truth to this. A narcissist who has abused multiple exes will claim *they* were all crazy so the narc can discredit their true stories and smear them. My ex narcopath had lots of crazy ex-girlfriends.
But on the flip side, re-victimization and repeating cycles of abuse are real issues. There are people who have dated more than one abuser without being "crazy." These people might be in recovery and might be great partners who are truly deserving of a good relationship. It is a shame to cut them off because of their pasts.
You really have to be astute and watch the red flags to make sure you filter out the abusers without dumping the innocents.
---
After writing out that thought, I started thinking about how you can tell a narcissist who calls all the past victims crazy and a victim who has been abused more than once. It is a reality that predators are drawn to certain types of people, and that once a person has been victimized, they are more likely to be victimized again. Many of us repeat cycles of abusive relationships.
This is something I take personally because I went from narcissist mother to narcissist husband to narcissist sociopath husband. In my romantic relationship history, (which also includes a long-term boyfriend that was not abusive,) I was always loving, caring, loyal and enthusiastic. I'm the type of girlfriend/wife who likes to pick up surprise gifts at the store, who likes to make sentimental presents, who likes to plan great birthdays, who loves to support my partner's talents. I didn't yell, name-call, assault or any of those things. With my abusers, I just got fearful and obeyed to avoid more yelling. I took everything on myself and tried to fix myself to make them stop abusing. In fact, I recently realized that abusers targeted me, not because I was a problem, but because they knew I wouldn't be. My ex narcopath told me he picked me out of a crowd and liked me because I was quiet and shy! So when I see these warnings that a woman with more than one abusive ex is a red flag, I want to shout, "No, no I'm not!" Please see the real me! Haven't I been through enough already? Do I have to be ostracized and called damaged goods forever? I love to be loved and I love to be loving. When I do get to share life with someone who can give equally?
That's why I wanted to sit down and share my observations on the difference between the real narcissist and repeat victim. Here are some ideas I came up with:
1. Look at behavior. Always look at actions over words! If a person has been victimized repeatedly, they are going to be hurt. They are going to show signs. They might be hesitant to meet new people or to go out. They might be fearful or show signs of PTSD. They should be in therapy. Predators rely on charm, words and dazzling conversations. It's the real behavior that shows the truth. You have to be critical of words and look at actions.
2. Look at who is moving on. As a victim of a sociopath, I'm single nearly three years later. When someone shows interest, I want to be interested back, but mostly I lock up and get scared. I don't want to go down the road again. My ex abuser has dated dozens of women. He didn't show fear of moving on. He had no attachment to me or any of those women. He had nothing to recover from. He had no sadness, no disappointment, no remorse. Ever.
3. Look at changes in the person's life. Does the supposed victim seem depressed? Did they change their lifestyle? Are they crying out for help? Are they reading articles and books on recovery? Did they lose vitality and lose interest in life?
4. Who is in withdrawal mode? Victims often pull away from friends and acquaintances. Or they might go back and forth wondering who they can trust. In contrast, the narcissist will cut off anyone who no longer serves them, but they usually won't cut themselves off from their social life/hunting ground. Victims will be sad about losing friends that they trusted. Narcissists just move on.
5. Who is acting "crazy?" Society often sees the victim as "crazy" as they go through these changes. They seem unstable and in doubt. They are scared, they are mad, they are sad. They are experiencing overwhelming emotions and probably showing them as well. The narcissist doesn't. As cruel as they are, they will remain stable and unaffected because again, they were never attached and they have nothing to fear. None of this meant anything to them. At most, they will be mad that they can no longer control the victim, (if the victim was the one who left first.)
6. Who shows genuine emotion? Actions, not words. If someone tells you they are sad and depressed, but they are out having fun and grinning, they might be covering feelings, or they might not have feelings at all. Real emotion shows up in many ways–including behavior, body language, expressions and words. For the narcissist, it's all words.
7. Who has stories? My ex narcopath tells people I'm crazy, but I'm in support groups sharing stories of what happened to me. When I tell people what happened, I start feeling my emotions change and my heart rate speeds up at the memories of how scared I was. Sometimes I see something that reminds me of the abuse and I get a sick feeling. I have real stories that affect me physically. The abuser tells stories, but he remains calm and keeps blaming me and calling me crazy. He feels confident about just walking up to my former friends and telling them his lies, and he adjusts the lies to fit the listener's emotional involvement.
---
Making judgement calls about people is tricky. I know from being on the victim side, that when onlookers saw me as the abuser and sympathized with the real abuser, it was a huge stab in my heart. I didn't get the help I so desperately needed when I was trying to recover. I often fear taking the wrong side in such situations because I don't want others to feel what I felt. But, I also know I have to protect myself against predators and I want to support the real victims. I know from experience that validation and support are so important for people who have been abused. And I know from experience that I don't want to be cut off because people think I'm the problem after what I've been through.
When it comes to narcissists, yes they do twist the truth to make themselves victims, but sometimes victims truly are victims who are working on becoming survivors.