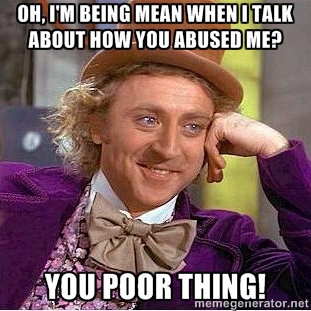 I've had a theory for a while, that narcissists will often target people who have some problem that will make them an easy scapegoat. After all, if the victim has an obvious "deficiency," it will be easier to pin all blame on the victim. Then, the abusive narcissist can pretend to be a victim and get all the sympathy and attention.
I first noticed this with my own parents. My dad is a selfish, narcissistic alcoholic, but my mom is far more conniving. She is very covert and can fake cry and quote Bible verses so convincingly. Even though as a child, I could see my mom constantly attacking and stonewalling, or rejecting my dad, she was the victim because he was the drunk. He got a series of DUIs as the marriage fell apart, and he went to rehab. My mom comes from a very strict family of teetotalers who think alcohol is of the devil, so that made it even easier for her to paint my dad as the entire problem and paint herself as the martyr.
Anytime my mom did something abusive and I called her on it, she'd throw the blame at my dad. For years after their divorce, she was still doing this! If I tried to set boundaries with her, her siblings would contact me and harass me…and tell me how evil my dad was. He was most definitely the scapegoat for their highly dysfunctional family for years after he escaped it. Not that he is a prize, but she was extremely effective at making him all bad and herself all good.
I started thinking about this some more when my ex narcopath told me about his alcoholic ex-girlfriend. He trashed her, of course, but for some reason, she put up with him slightly longer than his other victims did. Narcopath said she was usually drunk, and she yelled at her kids too much. (That last part was probably projection because narcopath is the king of yelling, raging and verbal violence!) But hearing him got me to thinking…. He had made her the problem because she drank, and that successfully pulled the spotlight off of him and his abuse. In fact, it sounded like he had convinced her as well, that she was the problem, and she bought it because she had the obvious drinking issue that was easy to pinpoint, whereas narcissistic abuse is not so easily defined.
Narcissists use our weaknesses against us, and because we are rational and accept the reality of our faults, it is easy for the narcissist to convince us that our shortcomings are the reason for the abuse. And, if our faults are more obvious, it is easy for the narcissist to convince others we are the problem.
In my abusive marriage, I didn't have any obviously big problems. I don't drink and I'm pretty goody-two-shoes, but my narcopath was able to exploit one area: my mouthy political views. Although I try to debate politely, my views are outspoken. That caused many people to like them, but also many people on the other side to dislike me. Even though my ex narcopath had the exact same views–except far more radical and hateful–he tones his down to protect his image. I don't play that game because I am genuine and honest. So, when it came time to smear me, he went for people who already disliked me for my politics. They were willing to join him in hating and smearing a common enemy. The mass attacks grew from there until he'd made me the scapegoat for our circle of acquaintances. After a long campaign, the false reputation about me and hatred that these people built against me, meant more than the truth. It became "common knowledge" that I was bad news, even though no one ever stopped to think about how that originated, why it didn't match the me they'd known for years, and why it didn't match the current me. Once a narc's smear campaign is rolling, it just keeps gaining momentum until reality doesn't matter at all.
I'm sure it's not true for everyone, but I think there is something to this idea that the narc will target someone that will be easier to smear when they are done. Having a "flawed" partner makes it easier for them to look good.