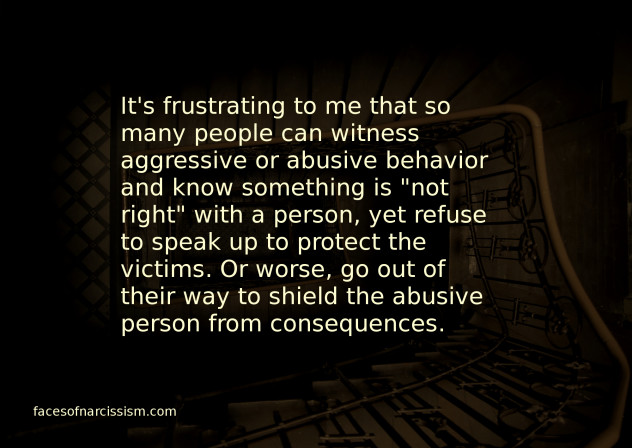 My ex narcopath has a terrible reputation…but he also has quite a few people who have known him for years and think he's great–people who swear up and down that I must be lying about the abuse. This boggles my mind! The guy gets in trouble all the time for raging, bullying, violence, and more. He's been arrested multiple times, a few women have had restraining orders, he gets sued from time to time, he's got a long history of reckless driving, and he gets fired from jobs repeatedly due to his bullying. He's know to be a huge jerk. His pattern is a match for anti-social personality disorder. It's loud and clear. Our marriage therapist saw it right away, as have many others. So how in the world are people NOT seeing it?!?!
First of all, some of them probably do see it and know exactly what it means, but choose not to care. Maybe they are as bad as he is? Or maybe they are so selfish that they don't care if someone is an abuser unless/until it hurts them? Some people probably see the pattern and have no clue what it means. Others see it, but don't realize the extent of how bad it is, so they think he's normal. Others have blinders on and don't see it.
But the key to all of this is: the narcissist builds very shallow relationships, but makes people feel like they are closer than they truly are. The narcissist can spend superficial time with someone without ever revealing a bit about themselves. If the time is short and spaced out, the narc can behave pretty well. It's only when you start seeing them regularly that the truth is obvious. The narcopath I deal with has people who have known him thirty years and think he's great…but they only see him for a few hours or a couple days a few times a year. So, they think about how they've known him for thirty years–which is a really long time to know someone–and they believe they truly do KNOW him. It's easy to be fooled. I'll bet if they were asked to answer simple questions about him, they'd realize they don't know much of anything about him. Some people have no clue what he does for a living, where his family is, where he works…or anything that you would know if you truly did know someone.
When the narcopath was grooming me, he spent over two years getting in and out of contact with me. He'd chat from time to time and "check in," so I felt like I knew him. When we started dating and he wanted to move really fast–getting married in six weeks–I justified it by saying I'd known him over two years.
I didn't know him at all.
My dad was sharper than I was. The first time he met the narcopath, he took me aside and warned me to stay away. I was confused! The narc seemed great to me! They had so much in common that I thought my dad would be proud of the guy I'd brought to meet him. But my dad pointed out that, when he tried to ask the narc deeper or more personal questions, the narc's face turned hard and he avoided the questions. My dad noted that, by the end of their meeting, he still knew nothing about the narc. Most people would never notice this.
Narcissists are often extremely outgoing, friendly and jovial, so when a person knows the narc casually, they have good, warm feelings of fun conversations. They don't tend to think critically and ask themselves what they really know about the narc. Even when someone does warn them about the narc, they remember the witty guy from the party and dismiss the idea that he could be anything other than what they saw.
The narcissist predator draws people in, charms them, says all the right things, and finds ways to connect. Narcs get people off their guard and they can be very charismatic. The narc can draw people into a conversation that seems very involved and very friendly, but the targets never realize that they are exposing all their secrets while the narc isn't saying anything personal. Because they have shared an intimate conversation, the targets feel closer to the narc. People like telling their stories and talking about themselves. It makes them feel good and it makes them feel heard. Do they realize that they are doing all the talking while the narc does all the listening?
In extreme cases, when the narcopath ends up committing a violent crime and getting caught, these people are the very people who will say "I've known him thirty years and he'd never do anything like that."
Did they know the narcissist? Were they paying attention? Or did they fall for a false intimacy based on knowing someone for a long time instead of knowing them well?
Since dealing with a sociopath, I have learned that you can never know a thing about a person unless you have lived with them or worked closely with them on a regular basis. Sometimes I wonder if someone I think I know is really a violent abuser at home. I've definitely learned to be on guard! And more importantly, I've learned to think carefully about my friendships so I can tell the difference between knowing a real friend and thinking I know a false friend.