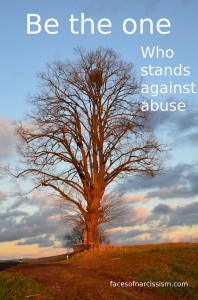 When I find out someone is friendly with my narcopath ex, I automatically distrust them. I often block them and avoid them. The ex was violently abusive with me, my children and my pets, as well as dozens–if not hundreds–of other women over the years. Not to mention restaurant servers, co-workers, random people on the road, and pretty much anyone the narc felt like attacking in a fit of rage…. So to me, anyone who wants to be friends with that is bad news!
On the other hand, as some of my real friends have suggested, I too was once fooled by the sociopath. I too disregarded warnings. Can I really think so badly of others who are still charmed? When people warned me about my ex's history of aggression, I confronted him. He convinced me so reasonably that those people were just jerks. And, since he was love bombing me so hard, I had no reason to believe he was anything other than Prince Charming.
Wrong.
So sometimes, I try not to feel angry at his "friends," and I try to have empathy and remember that I too was once fooled. Some people ignorantly try to stay out of stories, and they try to play both sides. Still, to me, that is offensive. The guy nearly killed me and my children! To me, there is NO "both sides." There is only the reality that this guy is a violent psychopath. So I struggle with trying not to despise the narcopath's friends. I know they aren't truly friends and I know they are just his supply. I know that if they got closer to him, they'd learn the truth.
But here's where I draw the line:
If I have told someone in detail just how bad things were, and they still choose to befriend the narcopath, then I have a problem with that. Basically, they are either showing that they don't believe me, or that they don't find anything wrong with the narcopath's violence. Either way, that means they are not someone who would be good to have in my life. Even if they don't know the full story, they have been alerted that the narcopath is someone who is very dangerous, so it's up to them to be diligent and pay attention. If they choose to ignore that warning or they simply don't care, in my mind, they have purposely chosen to befriend someone who hurts others without fact-checking.
And worse…if they have seen the actual evidence of the narcopath's behavior with myself and others and they still choose to believe and befriend the narcopath, then I have to wonder if they are just really gullible or if they are missing a conscience themselves. From time to time, I'll trust someone and share with them some of the evidence I have proving that my ex is a liar and that he's been in trouble before–things that show he is not a good person or a credible person. But, he's still charming and he still fools many people even after they've seen clear evidence that he is not to be trusted. At that point, the guilt is all on them.
I personally would not support a proven abuser, nor would I want to be friends with one, so I don't really want to associate with people who do. Call me judgmental, but I think this is really just a matter of good judgement! I do not want anything to do with people who hurt others. So, when people who know what the narcopath does choose to be friends with him anyway, I avoid them. Red flag!!!