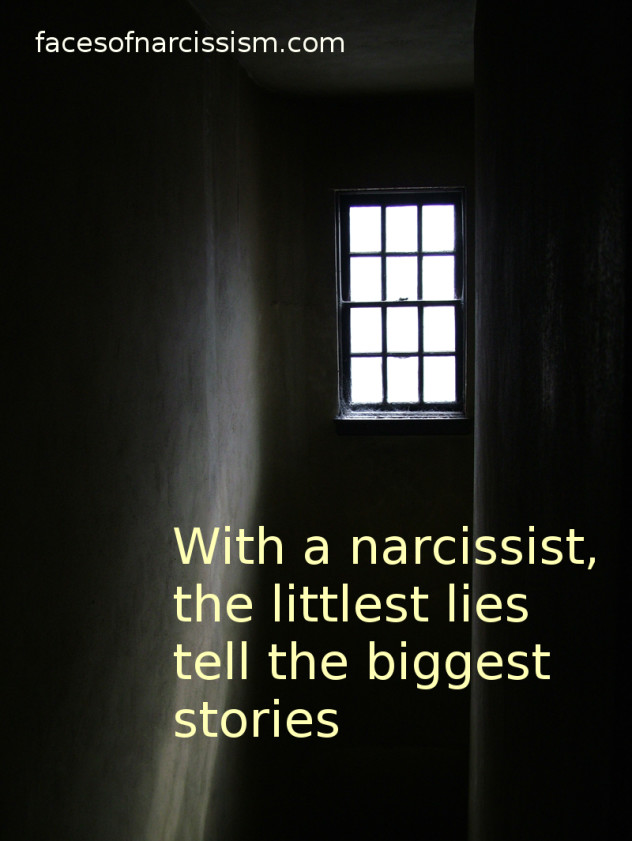 Every narcissist lies.
All the time.
Lies are essential to their games and the facades they create, and lies come so easily to them. I don't even think they plan ahead or rehearse. They just open their mouths and the most beautiful, "reasonable," and believable lies pour out.
I used to see my narcissist mother lie about the silliest things that didn't matter. Or at least, I didn't think they did. She would pathologically lie about anything and everything. I'd always wrinkle my forehead in confusion. Why lie? It was like she couldn't help herself. Sometimes, the lies would get her attention or get her out of trouble, but other times, they did nothing as far as I could tell.
Then, I saw my narcopath ex lie even more. His lies were more malicious, and more delicious. His were traps. They were covers. It was easy to see why he lied, (once I realized he was lying.)
And so I've learned that lies are second nature for narcissists.
---
These lies comes so easily, the narcopath would make them up off the top of his head. They just come right out. He adjusts them for his audience because different parts of the lies affect people differently. He touches people's emotions. Different lies for mothers, fathers, men, women, police officers, bosses…. He knew to look for their values and make his stories touch their weaknesses or their passions in life. The lies are so emotional and believable, that people rarely compare them to realize they don't match up.
When my ex wants to recruit others to attack me, he tells the divorced fathers that I alienate him from his son. He told one of my close friends, (a mother,) that I was cruel and mean to my mother. He tells domestic violence victims that I abused him. He tells victims of narcissists that he was abused by a narcissist. Narcissists adjust the stories for their listener's soft spots–the spots they can relate to.
Not only do narcissists lie to fool people or to cover their tracks, but they tell little lies to set a tone or create an image. Little things that you might not think matter much, stick in the listener's head and come back later. For example, when narcopath scared one of his ex-girlfriends with a road rage fit, he talked her out of being afraid of him by telling her he got so mad because he was upset that the other driver almost hurt her. He said he cared so much, that he got scared about losing her. She didn't date him much longer than that, so she easily bought that explanation. She never saw that it was a repeated pattern. She now thinks he is a guy who loves his friends and family so much, he will fight to protect them. She wasn't around long enough to see the truth, so twenty years later, she told me how great he was and how upset he got about her safety. Yeah right. He nearly killed myself and my children in multiple road raging incidents. It wasn't because he cared. It is because he's a psychopath! But that alternate image he placed in her head stayed there, and she still repeats it as truth. He planted a good image of himself that was never erased. It's amazing how the first impression sticks despite later proof that it was not real. One initial lie takes many later realities to dispute.
Narcissists will also plant little lies about their targets to destroy our reputations. We had issues with narcopath trashing or passively trashing me when he had supervised visits with my son. He would make little comments to the teachers or even directly to my toddler. They were recorded as black marks against him, because trashing the other parent is against the rules, but they still made an image. He'd say things like "I don't think his mother reads to him at home," with such concern. In reality, I have a master's degree in literature…and I read a ton. There are literally over 2000 books in my home. He knows this. The visitation center doesn't. So now they have this little seed planted that…maybe mother doesn't read. Funny thing is, narcopath doesn't like to read and admits it. He also made comments to my son who was just a year old at the time. "I hope mommy doesn't let too many other men hold you and play daddy," setting the tone that I'm a slut with men running in and out of my house. I haven't dated in 4 years! Nor do I want to. But, even though he got a write-up for that comment, the words are in the supervisor's brain. There are all kinds of things like this that have been said. Little reputation busters.
Narcissists will turn negative things they've done into sources of sympathy and ways to look like good people. During one court date, narcopath admitted losing yet another job. The magistrate asked why. He immediately had the saddest story. He moved across the country to start a new job and spent so much money relocating, (to be a supervisor, by the way,) but the company had over hired and hit financial hardship. Sadly, after all his sacrifices, he was laid off. The magistrate felt bad for him. The Human Resources records show he was never a supervisor, but he was fired for misconduct–after just four months and multiple write-ups for bullying co-workers and raging at authority figures. The magistrate didn't know that. At the time, I already knew it but I had no evidence. So…it slid by in court. Another little lie to set an image. A supervisor. Gee, he must be especially responsible.
More than once, he has referred to his house in court. Narcopath rents an empty house half a country away from where he is living. It sits empty, but he uses it for his address. He calls it his house. At our last court date, he said "I still own the house." He definitely said "own." Setting the tone that he's a home owner. He's responsible. He's stable. he has a home base. Problem? He doesn't own the home. According the the county, it is currently owned by a property management company that rents it to narcopath. He has never owned it or any other home. But, his purposeful use of "own" slid right into the conversation and added to the image he wanted to create. If I point out this lie, it's going to look silly. Fighting about a word the narcissist said at our last hearing? But it's out there now and it's in the magistrate's mind that he owns a home.
These little lies slide into all of the narcissist's conversations. Little hints that the targets might be immoral, crazy, dangerous, etc…. Little hints that boost the narcissist's image. Subconsciously, the listener absorbs them. A rumor doesn't have to be true to be believed. The pathological liar can slowly destroy you over the years with well-placed little lies. They can build their own positive images.  The lies aren't big enough to shock people. They just sneak into people's heads and stay there.