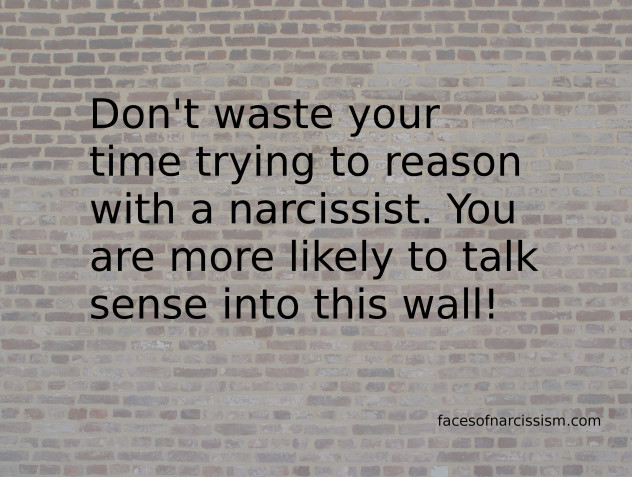 If you have dealt with a narcissist, you've probably noticed that they have to be right at all costs. I swear, they disagree for the sake of disagreeing even if they know they aren't right! I can't count the times that I was just having a normal conversation with the narcopath and he just exploded yelling that I was stupid and wrong about something small. He'd argue about anything and demand he was right even if there was no way he was right. He claimed to be an expert in EVERYTHING.
And that's the way many narcissists are. They cannot handle the idea that someone might know more than they do in some area. They will insist they know more than professionals, they will insist they know more than experienced people, they will insist that the sky is green and grass is blue. Facts don't matter. Their egos just cannot handle the idea that they aren't always right.
The narcopath ex told me he was an expert on trees–even though he's never owned property and doesn't like nature, on homeownership–even though he grew up in apartments and has never owned a house, kids–even though he's never raised a child, aviation–even though his pilot's license was revoked, the law–even though he got kicked out of law school after two semesters, medicine–because he once tried to be an EMT, French–because he took some classes in high school, and more. Even though he had no experience, or very little experience, he would insist he knew more than educated professionals or people with years of experience. At work, he has lost multiple jobs because he can not handle authority and he arrogantly fights with his bosses or others with more experience, and insists he knows more than them.
---
I want to share a funny little story here! When I was with narcopath, I casually mentioned one day that I needed to get a dead tree in my backyard cut down. He became agitated and said I didn't need to do that. He insisted he knew all about trees, and that tree was sturdy. I had nothing to worry about. It would stand for years. (Remember, a narcissist will randomly look for a right where there wasn't one!) I just agreed with him to avoid the fight he was looking for, but I was thinking in my head "Oh, so now you are also a tree expert?"
Not even a week later, we had a big wind storm, and the next morning, the dead tree was lying across my yard after it fell down in the storm. So much for sturdy! 😉
He never said a thing, although I am almost surprised he didn't say "I told you so!" while claiming that I was the one who thought it wasn't a problem!
---
A normal person will accept that they don't know everything about everything, but a narcissist cannot let anyone "beat" them in any way. If someone demonstrates that they know more than the narcissist or asserts authority over the narcissist, the narcissist can became enraged and aggressive. The narcopath ex literally sends people angry messages if he thinks they have posted something incorrect on Facebook, or he makes snarky comments to correct them. He must be right in all areas at all times.
I think many of us will find that narcissists are especially combative with doctors. My narcissist mother fought with doctors on many occasions. When I was a kid, she got in an argument with her dentist because he said he couldn't help her until she started taking care of her teeth properly. She came home angry and never went back. She didn't see a dentist for years, and she kept telling everyone how horrible her old dentist was. In reality, he gave her the correct information, but she didn't like it and she thought she knew better. I believe if she would have visited a few more dentists (maybe taking referrals from 1-800-Dentist Emergency Dentist Directory), her mindset would have changed as not all dentists can be wrong. But it seems hard to convince people like her. A narcissist will dig into their wrong ideas and refuse to change their minds despite facts and evidence.
Later, she fought with my child's pediatrician. She kept telling me that the pediatrician didn't know what she was she was talking about, and my narc mom insisted she knew better than the pediatrician. When I tried to follow the pediatrician's guidelines, my mother got mad and tried to do things her way instead. She once took my son to an appointment while I was at work and started a verbal fight with the pediatrician over a variety of subjects. She didn't like that the pediatrician didn't agree with her home diagnosis and refused to obey her. She was so nasty, she almost got my child kicked out of the office. My narc mother could not handle the idea that the doctor didn't bow down to her imagined superiority. She couldn't accept that a doctor with years of education might know more than she did. The doctor was right, and when I followed her directions, everything was fine.
There were so many times that my mother would claim that my doctor or my child's doctor didn't know what they were doing, or that they were wrong. So many times my mother insisted that the Academy of Pediatrics' guidelines were wrong, that the parenting books I read were wrong. That none of these parenting and health experts knew as much as she did. She'd call me stupid for trusting the professionals. This from a woman who didn't really even raise ME–her only child!
The narc ex was the same way. He fought with his own doctor and refused to go back when his doctor discovered dangerous liver values in his blood work. He decided he knew better, he was fine, and he wasn't going to follow through to see what was wrong. Fine.
---
According to the previous DSM description of Narcissistic Personality Disorder, the diagnosis includes "An exaggerated sense of self-importance (e.g., exaggerates achievements and talents, expects to be recognized as superior without commensurate achievements)." They are also entitled and demand admiration. If someone doesn't bow down and praise them for all that they think they know, they become angry. They believe they are superior in all ways, even when they aren't, and they will not accept anyone knowing more.
It's useless to try to have a normal discussion with a narcissist when they are in this mood. (Which, with the narcopath ex, was pretty much every hour he was awake!) It's useless to give them facts, to share your own views, or to try to tell them otherwise. In their minds, they are always right.