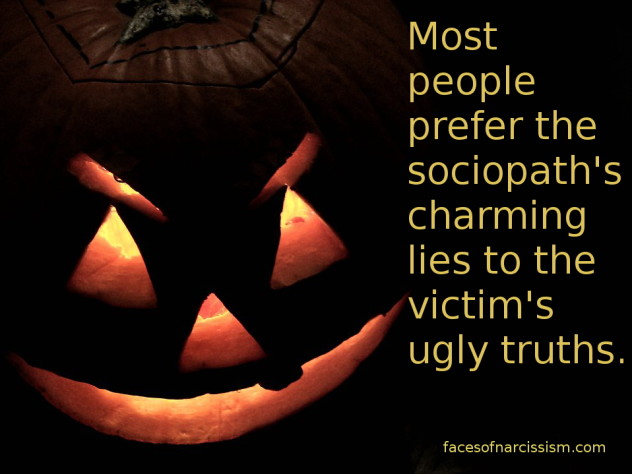 If you have been abused by a narcissist, you probably know that when you tried to tell people your story of the abuse, people were more likely to believe and support the abuser because they didn't want to hear what you had to say. Morally, this doesn't make sense to us, because we can't understand why anyone would support or want to be friends with someone who viciously hurts others!
I always post from my point of view–that of a survivor who was badly abused by a narcopath, but I wanted to share an outsider's point of view today. I have a friend who originally believed the abuser's smear campaign. He said he thought the narcopath was telling the truth until he met me and got to know me better. Then, he realized that the narcopath's stories didn't line up. Of course, as soon as the narcopath realized that this friend had seen the truth, the narcopath blocked him and stopped talking to him.
My friend has his own blog and he made a long post about this problem–where people prefer the abusers and bullies. He explains from his point of view why people see benefits to supporting the abuser, and he uses Bill Cosby as one example. I asked him if I could include some excerpts here. His original blog post, which is much longer, can be found here: http://mikespeakshismind.com/villains-and-the-people-who-love-them/
---
So why is it that, even in the face of what seems to be clear and convincing evidence of wrongdoing, some people want to offer Bill Cosby complete exoneration?

It's simple, really:  They like him.  Everybody likes Bill Cosby, and consequently nobody wants to believe that he's a serial rapist, despite all the testimonies pointing in that direction.  It's just a fact of human nature that we all tend to try to be in moral harmony with the people we like, even if that means willfully excluding facts, logic, and evidence from consideration.  The more well-liked a person is, the more inclined we are to take that person's side — right or wrong.

…

Put simply, people value villains for what they do for them.  Consider the villains you've encountered in your own life.  Most likely, those villains did not live isolated, lonely lives, scorned and hated by society, suffering under the weight of the consequences of their evil deeds.  On the contrary, they probably had their own circles of devoted friends who loved and supported them even when they exhibited patterns of shockingly callous and cruel behavior toward others.  You might have wondered, "How could this be?  Don't his friends know what this villain has done/is doing to people?"  And the fact is, they probably do.  But they also know what the villain has done for them, and that is what ultimately makes the difference.

…

And this is generally how villains keep afloat despite their villainy:  They do something for their friends, whether it's puffing up their friends' egos, or making them laugh, exchanging sexual favors, etc.  And that puts the villain's friends in a bind once the villainy is exposed.  For the friends to believe what's being said about the villain, or even just to give the accusations the weight they deserve, they might have to consider cutting themselves off from whatever positive thing(s) the villain has been doing for them.  That's not exactly "win-win" for those friends.  Therefore, they don't have much self-interested incentive to give the accusations credit.  Most people, even those we consider "good" people, tend to think, "What's in it for me?" in any given situation rather than, "What's the most moral thing I can do here?" so long as they have a choice in the matter.  If all that believing in these accusations offers them is alienation from someone they perceive as a friend and/or someone of use, that's not a deal they're likely to take.  For them, believing is all negatives, no positives, so it's far easier for them to disbelieve the accusations, no matter how irrational or unfair to the villain's victims that might be.

And what happens if you are one of those victims, and you're in the unfortunate position of trying to get the villain's friends, who are also your friends, to understand the horrible things the villain is doing to you?  That's an unenviable position in which many victims of abuse have sadly found themselves.  When villain and victim are part of the same community, who gets believed is often going to be a function of who is perceived as making the greater contribution to the community, and often that's not going to be the complaining victim simply because those complaints are going to disturb the harmony of the community.  Often the community will close ranks against the victim, perceiving the victim to be the greater threat — i.e., "We were all getting along fine until you starting causing trouble with these accusations!"  And the more you complain, the more likeability points you lose, until your moral bank account, in their eyes, has been depleted — or even gone negative!

…

 — do I shun this villain who does positive things for me, or do I disbelieve these accusations and shun the accuser?  That's the kind of confrontational approach that makes the "What's in it for me?" calculations take over in people's minds — to the plaintiff's loss, more often than not.