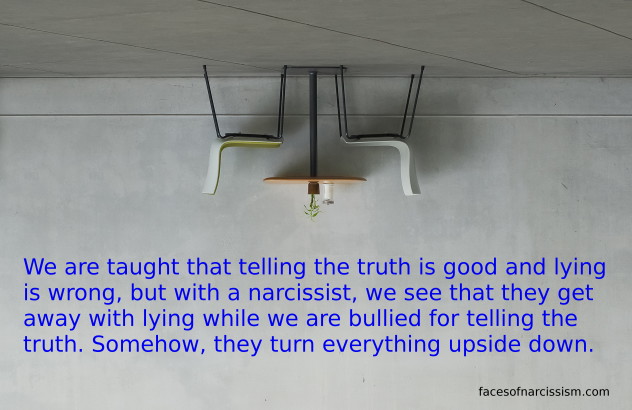 As I've tried to tell my story to get legal help dealing with the narcopath abuser, I've heard many platitudes that may apply to a normal break-up, but do not apply to a break-up with a predator. I've heard comments like "there are two sides to every story with the truth somewhere in between," or "its a he-said she-said situation," or "I feel bad for both of you," or "you will learn to get along," or "you are just bickering."
Wrong. There maybe normal break-ups where those comments apply, but they do NOT apply after an abusive relationship–especially one with a sociopath or narcissist. When there is an abuser in denial, a pathological liar involved, the ONLY person who is helped by these meaningless phrases is the abuser. As usual, the abuser mooches off our human tendencies to want to be fair, our need for justice, our empathy. Right when the abuse survivor needs help and validation the most, society is not able to give it because they are too busy trying to be fair to the person that we know is abusive!
In these situations, there are two sides to the story–the lie and the truth. It is "he-said/she-said"–one said lies and one said the truth. An abusive relationship isn't a case where one party is simply misunderstanding the other, where there is a difference in communication, where two people see things different ways. This is a case where someone was predatory, the other person is scared and trying to get help, and the abuser is trying to cover his or her tracks. The idea of "innocent until proven guilty" might protect some innocent people, but it also protects some very guilty people. The good people in society want to help the party that needs help, but so often ends up either on the wrong side helping the abuser, or at best, failing the victim. We all need to be more astute to noticing the difference between words and actions!
Unfortunately, most abusers aren't jumping up and down to admit they are abusive. The large majority of them deny it, (of course,) and many of them are savvy enough to put on a false front and an act to look good. The first characteristic of a sociopath is superficial charm. So if we are just looking at the surface, we are going to join the fools who wrongly believe and support the abuser. We need to pay attention. The signs of lies are there if we are alert.
Forget what someone tells you and look at their behavior. The abuser may twist the story and claim to be the victim, but do they act like a victim? They can talk like one, but in my experiences, they rarely act like one. My former abuser socializes and never missed a beat after I ended the marriage. I stayed at home in deep depression and I jump at sudden noises or movements. Gee…maybe because something horrible happened to me? The abuser didn't move on easily because he was so healthy. He moved on easily because he wasn't hurt and no one ever mattered to him.
A former friend of mine claimed his ex-wife was greedy and taking all his money. He was a nice guy and everyone bought it. But, while he claimed to be living in poverty, he posted photos of lobster dinners, grilling steaks, his new TV and his new designer dog. Only a few of the most astute people in our social circles put two and two together. Most vilified his ex-wife based on his WORDS. He kept dragging his wife to court over and over and over to win, to prove she had a boyfriend, to harass her…. And he told everyone else that his wife was not cooperating so it was her fault. People truly did not pay attention to the fact that he was the aggressor. And frankly, I was not surprised when he murdered her then killed himself. Nearly everyone else was shocked. I was not. There were dozens of little signs that I recognized from dealing with a sociopath.
Most people who have not seen this level of deception and manipulation do NOT get it. They end up hurting and invalidating the real victims when they believe the abusers' superficial lies. There may be two sides to every story, but that doesn't mean they are both true.