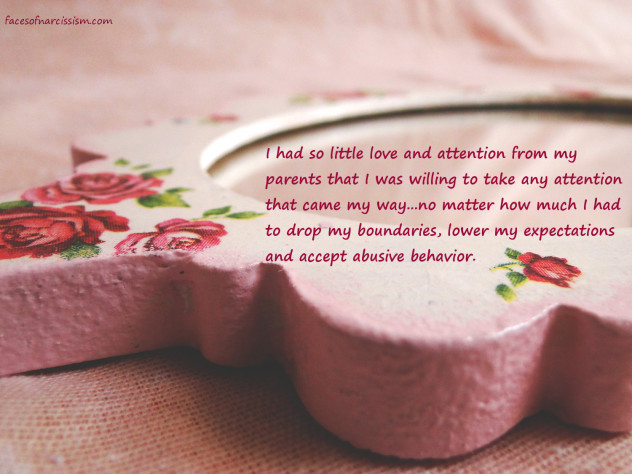 A narcissist will target anyone, but it seems that they are more likely to target people who grew up in unloving, abusive homes. Perhaps they sense that we are hungry for love and will put up with much more than most people would. Or they realize that we are used to believing that we don't matter and we have grown used to accepting abusive behavior as normal. Both of my parents made it clear that I did not matter to them. My dad literally said he wished I'd never been born because his new wife didn't want me around, and my mom literally told me that I didn't deserve anything because I was just a child and she was the adult. I was also told that I was too skinny, too weak, too quite, too shy, too pale…you name it.
At no time was I ever told that I was okay the way I was or that I mattered.
If I did speak out against the abusive treatment I got, I was hit, beaten, threatened, and cussed out. I was told that I had no right to "talk back," or expect anything more. If I wanted clothes that fit or warm shoes for winter, I was told I was greedy and ungrateful. While my mother wore new, expensive clothes and went on gambling binges, I was made to feel guilty for wanting anything more than the bare minimum to survive. And so I internalized that. How dare *I* think I had a right to ask for or expect something better from life?
And so I went along living that way, into my 30s. How dare I spend money to see a movie in the theater? Who was I to buy a nice dress? Only selfish women had manicures. It was wasteful to splurge. Now it's one thing to be frugal, but it's quite another to learn to deny yourself any form of extras or pleasure because it's been beaten into your head that you are selfish to want more from life. I was the latter. I wouldn't even spend money for my health or dental care because my mom was still telling me it was foolish to "waste" money on dental work or she made me feel guilty for spending money to go to the doctor.
---
There were times in my life when I could literally say that no one on this earth loved me. And that was devastating to me! Humans are supposed to have love in their lives, and I grew up with none. It wasn't until many years later that I learned that it was okay for ME to love me. Even if no one else did, or it seemed like no one did, it was okay for me to treat myself like I mattered. To treat myself like I would treat someone I care about. I would be happy for a friend who went out for a fun night at the movies, so why should I feel like I wasn't good enough? I would give a friend a gift card for a spa day, so wouldn't it be okay if I allowed myself a day of relaxation as well? I gave someone a fancy food basket for Christmas, hmmm…maybe I could eat a gourmet snack myself. To many people, this ability to enjoy life and believe they deserve pleasure comes naturally. To me, it didn't. I had been told and shown that I was not worth anything more than the crumbs my parents threw at me after they took care of their own desires.
---
But the truth is, it is absolutely OKAY to take care of yourself. It is OKAY to feel good about yourself and enjoy your life. There is a big difference between being greedy and selfish and simply honoring your own need to take a break, take care of your health, relax, take care of your mind and your body.
As long as I harbored the idea that I wasn't worthy of being treated well or having what other people had, narcissists knew that I was an easy target. When I first started dating the psychopath ex, he even commented that I was ultra considerate of him and apologized too much. Little did I know that he was going to take that observation and trample all over me! All of who have been abused need to get to the point where we care about ourselves so much that there is no way we are going to let someone treat us badly. If you wouldn't let a person treat your closest loved ones a certain way, then don't let them treat you that way either. We are all worthy of being treated with respect and kindness no matter what an old bully has tried to tell us!