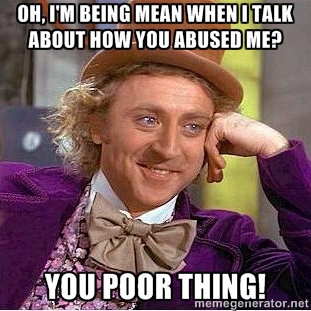 A few months ago, I encountered a bit of an uncomfortable situation in the comments on my blog. I have a spam filter that catches odd comments, and I check it every few days. One day, there was a comment from an anonymous woman who was upset that her narcissist ex was posting on narcissism blogs–including mine–and claiming to be the victim of her behavior. Uh oh. Now what? My narcopath ex has done the same to me. He's even in some narcissistic abuse support groups. In fact, one of his worst flying monkeys CREATED a support group on Facebook for him and his other flying monkeys!!! On the other hand he, (and that flying monkey,) have followed me around to various support groups claiming he is the victim. The flying monkey finally outed herself by picking fights and triangulating several admins in a big narcissist support group, but until then, none of the admins of the various groups knew who to believe.
So here I was in a situation where one of these people commenting on my blog was probably an abuser and one of them was probably the target, but I couldn't be sure which one was which. I didn't want to enable the narcissist, but I didn't want to neglect the target, so I just deleted all of their posts. There was no way I wanted to take a side and risk taking the wrong side. I know how much damage is done when a clueless third party takes the wrong side and stands against the target. I've had it done to me too many times!
Flash forward a few months, and one of those people came back to leave a comment. But, it wasn't a comment about the ex. It was a comment harassing me because they didn't like something I posted about abuse. Funny how those narcs get all touchy if there is an insinuation that they aren't perfect, right? Anyway, I deleted the foul comment, but I guess now I know which one was the narc!
Don't worry…they ALWAYS out themselves. A narcissist is a narcissist and will never change. They can watch and regulate their behavior, but one day they explode and attack. If someone takes the time to send me unsolicited hate mail, that's a pretty big clue!
So now my mystery is solved!