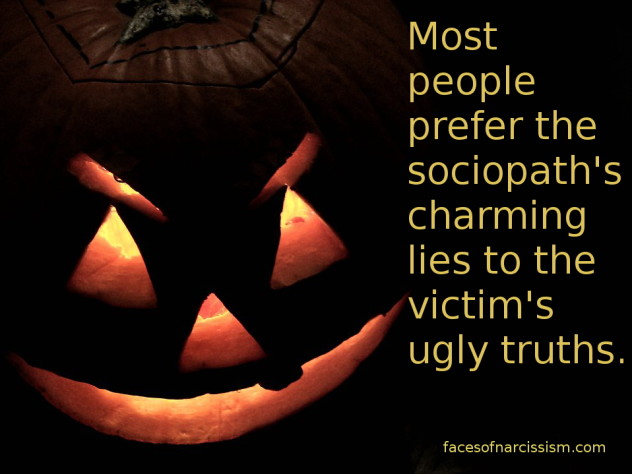 Even though I have blocked my sociopath ex and all of his flying monkeys in every way possible, we still have common acquaintances, and I still sometimes see references to one of them. It usually startles me, and I have to remind myself not to post what I really think about that person, even though in my head, I'm thinking the person is complete jerk!
I have posted many times about flying monkeys, because they continued to make my life hell long after I had cut contact with the sociopath. The damage they did for years was more traumatic than the brief, psychotic marriage. My posts about flying monkeys get way more views than my post about narcissists, so I'm going to guess many other people are dealing with the same issue. The flying monkeys continue the abuse even after you escape the abuser!
The other day, a casual Facebook friend posted about how wonderful and kind and thoughtful one of the flying monkeys was. I was shocked! This woman had supported my abuser–the man who attacked me and my children–stood up for him, bad mouthed me, spread rumors about me, and worse. I knew she was a nurse, which was even more disturbing. It is really scary to think of a nurse who lacks empathy. Can you imagine how much damage they would do? So I sat here reading that post and having a very hard time reconciling the woman who cyber bullied me, (without ever having met me,) with the woman who could be especially kind to others. Frankly, while my sociopath ex would be polite when others were watching, he would NEVER go out of his way to notice someone and do something kind for them. So how could this woman be so cruel and kind to others? It really led me to re-evaluate the way I see the monkeys. Because honestly, I pretty much despise them.
This monkey had noticed that the other person was depressed and posting some depressing thoughts online, so she took the time out to get him a personalized gift. How strange. When I was depressed, anxious, dealing with PTSD and feeling a bit suicidal, she took the chance to kick me when I was down. How could this be the same person?
Then it hit me. Maybe she is an okay person. She wasn't the worst of the monkeys. She supported the ex, but wasn't as rabid about bullying me. Maybe she was genuinely fooled. I spoke out about the extreme abuse from the sociopath, and she had only seen his short-term public side, so maybe she really did think he was innocent and I was the bully. She was dead wrong, but I tried to see thing from her side. I truly don't believe a narcissist can be empathetic, and yet she had been empathetic with this other person. Also, I know that after standing up for my ex, this woman had gone on to date a notorious womanizing sociopath that we both knew…and got burned. Maybe she learned her lesson?
I chatted about it with another friend who knows the truth about my sociopath ex, and has seen it for years, but also knew this flying monkey woman. His opinion was that she was genuinely fooled, and was normally a thoughtful person. He believed she was a nurse because she really did have empathy, but unfortunately, her empathy was misguided when she sided with my abuser. I guess that does make sense. We all know abusers fooled us!
Anyway, I usually think very, very poorly of the flying monkeys, and I still think many of them are sociopaths themselves–bullies who are happy to attack a vulnerable person. However, thinking about this situation, especially after having more time to heal and see things more clearly when I'm not under attack, I was able to understand better that maybe not all of the flying monkey are totally evil. Maybe some are people who were just fooled and think they are standing up for the wronged party. Let's just hope that these people one day see the truth.