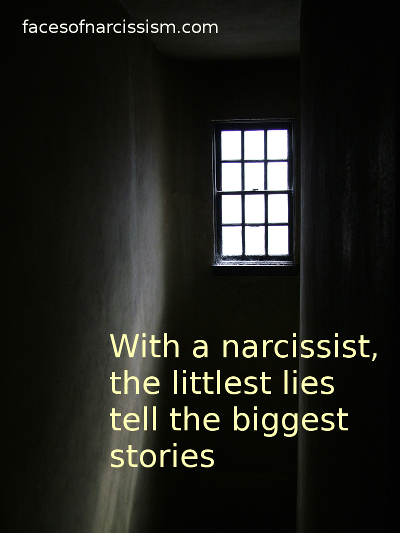 I had to deal with the sociopath today because he visited my son this weekend. I hate those weekends! Sociopath has been testing boundaries lately by calling my phone to inform me of his visitation plans. Our court approved mediation states that he must email me by Wednesday and is not allowed to call me…so of course he calls me on Friday night. Test. Test. Test. Sometimes I put up with this crap, because I know if I don't pick up the phone and set up a visit time at the last minute, he will manipulate and lie and claim I'm refusing his visits. Uggh. I'm also genuinely afraid he will rage and endanger us all if I hold tight to the rules. I do not want him coming over to my house violently demanding my child! So, narcopath tests every boundary. He constantly changes times, shows up late, calls over and over to keep moving his arrival time, and anything else that wastes my time.
So today, he brought my son back after the visit and arrived just before bedtime. As usual, son was not fed lunch or dinner. (Sociopath can't bother to spend money on a child's meal, right?) He always gaslights me with a lame excuse saying he didn't feed my son because I said I was going to or something like that. In reality, I always warn him to feed my son because visitation ends close to bed time and we need to go straight to getting ready for bed. Does narcopath really think I don't remember what I say!?! Gas lighting!
Narcopath then started lecturing me saying I am alienating my son because my son would not obey him during the visit. Apparently, he told my son to pick up toys and my son cheekily replied "I don't like you!"
Now, pretty much EVERY parent in the world has heard this. You know it! My son started doing it to me about a week ago, and I suspect he picked it up at daycare or something. It's NORMAL! It's also nothing to do with "alienation." Newsflash, little kids don't actually want to pick up their toys. We make them do it, but they aren't exactly jumping for joy, plus they will test us to see if they can get away with not doing it.
Then, sociopath told me I'd sent my son in pooped in pants and obviously I must have done something to upset him emotionally to cause him to get upset and poop his pants. This surprised me because we don't have potty accidents anymore, plus I'd sent my son to the potty immediately before we left for the visit drop off. So, I looked at the "poopy" clothes narcopath sent home for me to wash. Hmmm…shirt is clean and dry. Shorts are clean and dry. Socks are clean and dry. What is going on here? This isn't messy at all! I finally looked and noted the two inch skid mark on my pre-schooler's underwear. Ohhhh, that's it. A small stain where a little child didn't wipe very well. That is hardly the same as pooping one's pants in emotional terror! But of course, narcopath has inflated it to make me look bad.
I just gray rocked, stayed bored, and nodded as sociopath, (who can't even spend money to feed my child, hasn't paid support in two years, and has only purchased one $2.00 birthday gift and one $5.00 Christmas gift in my son's ENTIRE life,) told me how much he cares about my son and how it's so great that we are getting along now. (What the heck? We aren't friends. I still know you are a sociopath! Stop calling my phone!!!) I didn't bother to disagree, because I know that makes him rage and become violent. I just said things like "huh, that's weird" and looked bored.
The conversation was very annoying as he tried to manipulate me, lie to me, and create non-existent "alienation." THEN, as he said goodbye to my son, he told my son that he was going home with mommy because "that's where you have to live right now." Okay, now *that* is real alienation. He HAS to live here? Only for right now? When we got home, my son said to me "Daddy says I am going to go live with him, but I don't want to. I want to live with you." So clearly, the real alienator who was trying to make me into an emotional bully so bad my son "pooped" his pants and refused to pick up toys, was telling my son he isn't going to live with me anymore and upsetting my son who is very strongly attached to me. (Which makes sense because his father rarely visits and doesn't support him in any way.)
Yep, that's a sociopath. They lie to us about what really happened, twist bits of truth to manipulate normal situations, then accuse us of what they are doing. And they do it so sadly and realistically that foolish people believe them. I know better, but I can only imagine how his orchestrated story would sound to others.