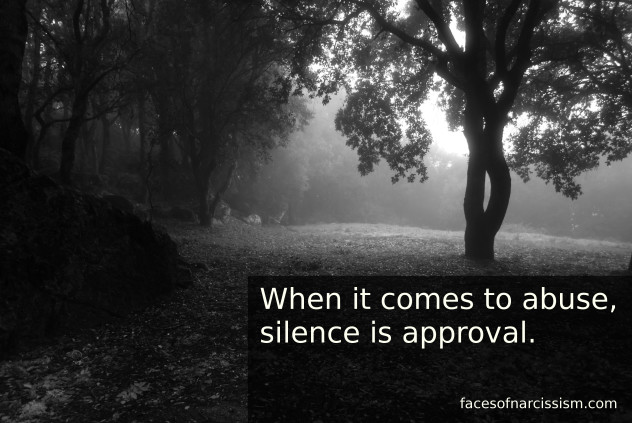 I've said many times that I think we should shun repeat abusers–especially narcissists. Even if someone doesn't hurt me, if I know they hurt others, I don't want to encourage them. I want to avoid them! Furthermore, when onlookers stay silent about abuse, the narcissist believes that means they condone or even support his or her behavior. People who remain apathetic–who just don't care about what the abuser does to hurt others–are the narcissist's best friends. They enable the narc and encourage the abuse to continue simply by doing nothing.
I once stated my theory publicly to some mutual acquaintances I shared with the narcopath. I said that abuse continues because society lets it. People willingly let narcissists go about preying on others because they don't want to speak out or get involved. When I said that, one of narcopath's enablers huffily said that it was childish to shun people based on what relationship they had with another person. She said that she didn't care what narcopath had done to others, and that mature adults only judge people by what that person does with them. Well, superficially narcopath has put on a charming face with that person, so she thinks he's just fine. But with me, and many others, he is violent and exploitative. That reality doesn't change just because he puts on an act sometimes. If narcissistic abusers were shunned for their behavior, they might actually have some reason to change it since they depend on others for supply!
In normal situations with normal people, it is reasonable to judge a person by their interaction with you. Maybe Suzy doesn't get along with Paula because of a difference in personalities, but that doesn't mean Suzy is a bad person. If you and Suzy get along well, that's great! But with narcissists and sociopaths, they are dangerous, predatory people through and through. You can't say that they just have differences with others because they are so cruel and manipulative, they are willing to exploit anyone and everyone. Would we befriend a kidnapper simply because they didn't hurt us? No way! If a predator does that kind of damage to someone, we are horrified and we avoid them. But when a narcissist tears someone apart emotionally, they get away with it.
Predators are often very interesting and charming. My ex narcopath is below average for looks, but has no problem grooming and hooking hundreds of women with his false personality. There are many people who think he's fun to be around. There are many other people who are picking up the pieces of their lives after he's been through like a sledgehammer. Does the fact that he can be fun with some people mean that those people should ignore what he does to his victims? Would you be friends or stay friendly with someone who is a lot of fun for you, but hurts those close to them? Morally, I couldn't do that, but apathetic people in society do it every day. They choose not to get involved, or they choose to ignore abuse that doesn't affect them, but in reality, they are giving the abuser the green light to hurt more people. When it comes to abuse, silence is approval.