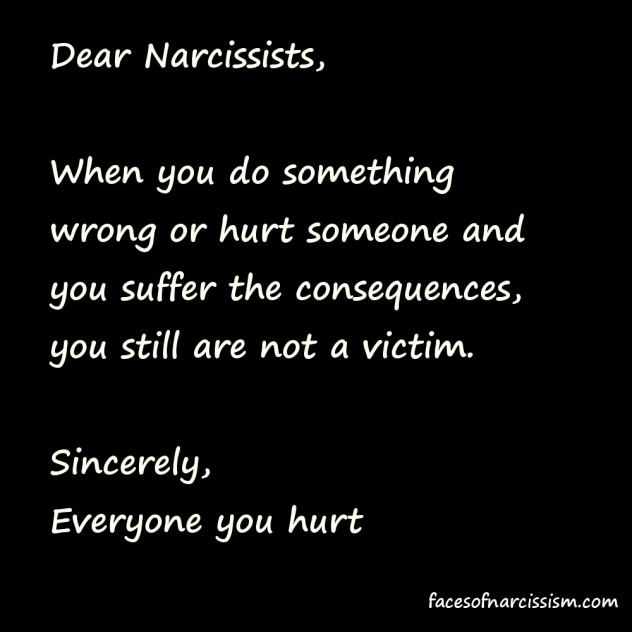 Some people are victims…some people are playing victim. And no one is better at playing up victim status than the narcissist who hurts others. Somehow, they will make their victims the bad guy simply because their victims refuse to accept their behavior anymore!
As adults, we are free to have our own boundaries. We are free to make our own decisions. We are free to stand up for ourselves…and in fact we should! But narcissists do not like that idea. If a narcissist does something inappropriate and you put up the emotional stop sign or hold them accountable legally, they will get mad at YOU and claim that they are being "attacked." They want to manipulate us and push and bully us into believing we do not have the right to stand up for ourselves, but don't let them fool you! They want you to waver and let down your guard. They want you to feel guilty for protecting yourself. These people do not respect boundaries–they will just keep pushing you. They don't like to accept "no" as an answer.
They will also deflect. If you confront them, they will again, make you the bad guy. They will start embellishing, blaming, or bringing up all stories in an effort to distract you from the current issue at hand–their bad behavior. They will put on a show of telling others how mean and unreasonable you are as they attempt to collect flying monkeys. Of course, they never tell the monkeys just why you are holding them accountable for their actions, right? 😉
The other day, I posted this status on Facebook because I find it to be true time and time again:
I've said it before and I'll say it again because it is always true!

The first clue I had that my ex was a narcopath was that, when he hurt people and was held accountable, he blamed the people he hurt. When he bullied a co-worker and got written up, it was the co-worker's fault for talking to a manager. When he drove too fast and got a ticket, it was the police officer's fault for giving him the ticket. When he assaulted me and got arrested, it was my fault for calling the police.

This is a clear sign that you are dealing with a disordered person. When THEY do something wrong and you hold your boundaries and hold them accountable, they play victim and act like you are hurting them. In reality, you are not wrong to stand up for yourself, your rights and your boundaries. Don't let them bully you into thinking you are!
The narcissist is counting on us having weak boundaries and caving to their persistence and demands. Sometimes it's hard for many of us to allow ourselves to protect ourselves. We have to fight the guilt and the peer pressure from flying monkeys who have a warped story from the narcissist. We begin to doubt or we start to give in…and the narcissist wins. Don't let them do this to you! We have a right to take care of ourselves and make decisions in our best interests. We have the right to look out for our legal rights. We have the right to be with those who improve our lives while avoiding those who make us miserable. The narcissist doesn't like it, but it's not their choice, is it?